"Remember when it comes to the memorial you want for your loved one - you are only limited by your imagination!"

Granite is the core material used for Stonehaven Memorials.  There is a great range of colours and the designs that can be made from Granite are almost endless.  Your ideas can be turned into stone for someone you love.
If you have a special shape in mind on how you want your memorial to look, feel free to e-mail, fax or post us a sketch.  From there we can go over the size and colour required, then offer you an obligation free costing on the memorial.  Below are a few examples of our special designs.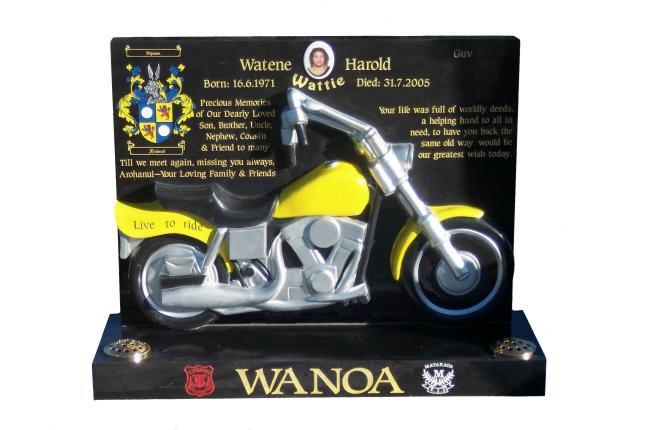 This Harley Davidson memorial is carved as a replica of the persons Harley.  The motor bike and stone are all one piece of granite.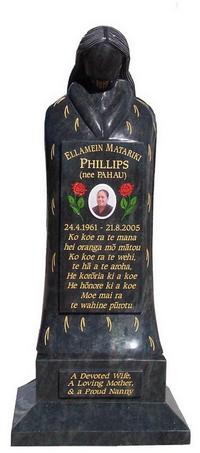 This full three dimensional statue was a design brought into us by the family as a sketch on A3 size paper.  Graeme worked with the family to get the correct sizing, coloured granite and polishing details.
The colour of this granite is Ocean Green, as you can see in this picture this colour has excellent contrast against the 23ct Gold Leaf used for the lettering.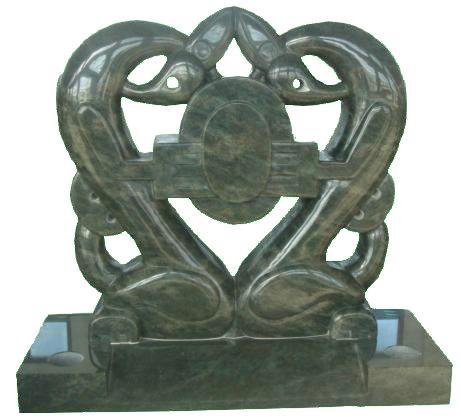 This Manaia Memorial was brought to us as a sketch on a piece of paper.  Working with the family we turned their idea into stone.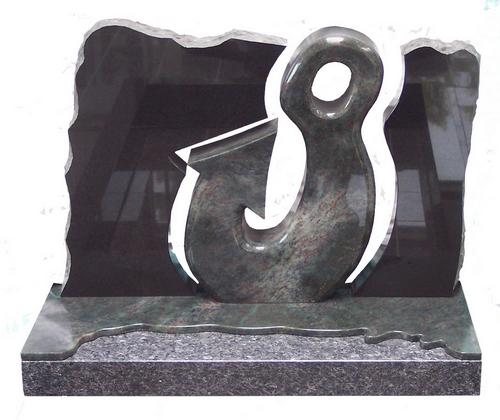 The above memorial is a special design Graeme came up with.  The Blue Pearl Granite represents the sea, with the Ocean Green plinth representing the land.  Note the plinth is cut to the outline of Tokomaru Bay, north of Gisborne.  The Fish Hook is to represent the person whose life revolved around the sea, fishing and diving activites.